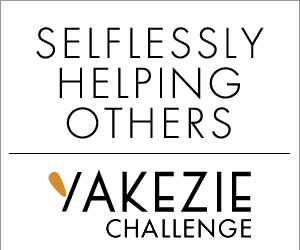 As many of you know, one of my goals this year is to become a top 250,000 site.  Well, over the weekend I kicked it up a notch!  Thanks to a solid first week of 2012, with folks stopping by, commenting and sharing posts with friends, Step Away from the Mall moved up the ranks to about 1.25 million.  For a regular guy like me, I still think that's pretty cool.  I mean, there are millions and millions of websites in the world, right?  I'm honored that so many of you come and check out the site on a relatively regular basis.
But over the weekend I joined "the Yakezie challenge," which is a challenge to bloggers to get in the top 200,000 websites within six months.  It's an active personal finance and lifestyle blogger community where a bunch of bloggers share ideas and stories about a number of things, including how to provide the best content for readers, which is my primary goal here.  So I'm going to do my part by providing quality content and becoming even more active online and in the blogging community.  Make sure you let me know if I'm slipping!
If you want to help, that would be awesome.  Spread the word about SAFTM.  Share the posts.  Comment below.  Join our recently-started Facebook community where I hope to build a place where we can all share thoughts, successes and support.  Follow me on twitter where you'll find most of the posts, random thoughts by me and more.  The Facebook and Twitter connections won't directly shoot the blog up the rankings but will help build a community where people can share successes, advice and motivation so that at the end of the year a few more folks have stepped far away from the mall and closer to financial freedom – with our help!  Pretty cool, huh?
Just think:  If you like it here, enjoy what I've got to say and get some benefit from reading my posts, then your friends and family could too.  So I'm not growing for the sake of growing.  Don't share for the sake of sharing.  "Help me help you (and others)," to steal borrow from the cliche….
Until next time, put your credit card down and slowly step away from the mall!